ONLINE MASTER OF
PUBLIC ADMINISTRATION
TAKE YOUR NEXT STEP
Connect with an advisor for detailed information on application deadlines, admission requirements, financial aid options, & more.
Take Your Next Career Step!
Earn Your Master of Public Administration.
Increase your knowledge and gain the skills to take on challenging assignments in budgeting, planning, policy formulation, public finance, public personnel administration, collective bargaining, and more.
Our Master of Public Administration degree program accommodates students both new to the field as well as those already working in the industry. Perfect for students who are motivated to increase their knowledge and gain skills to apply at the national, state, or local level.
Can't physically be on campus? Our fully online courses let you set your own class time and place. Most importantly, the courses offer the same objectives, expectations, and value as their on-campus counterparts and carry the same academic credit.
Choose from these Six Concentrations or Tailor Your Own Course of Study
Municipal Management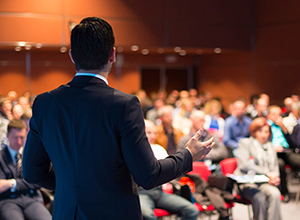 Conduct research into public sector issues, formulate policy, manage public sector budgets, and address other common challenges of local and metro area administrators
Fire & Emergency Medical Services
Run a fire department, set a public budget, manage resources, and develop strategic plans to meet the ever-changing demands placed upon your fire department.
Nonprofit Management
Develop strategic plans, acquire funding, manage resources, and engage in effective public relations.
Public Safety
This concentration is designed to give students a focused background in local and state Public Safety, from the perspectives of Emergency Management, Criminal Justice, Fire Science, or National Security.
Public Financial Management
Gain the analytic skills and knowledge necessary to assess the finances and economic position of a municipality or other governmental unit with the power to tax.
General Concentration
Be prepared to take on challenging assignments in public service, particularly at the state and local levels.
Why the University of New Haven?
100% ONLINE.

Courses are fully online, accessible 24/7 from anywhere.
ONE COURSE PER TERM.
Most courses are just 6-8 weeks in length for maximum work-life balance.
NO ENTRANCE EXAMS.
GRE/GMAT scores are not required.
ON YOUR SCHEDULE.
Access coursework when it's convenient for you. Perfect for the working adult.
Sample Courses
Our online Master of Public Administration is comprised of 36 credits. Below are a few sample courses students may take during their educational career:
Public Policy Formulation and Implementation
Research Methods in Public Administration
Personnel Administration and Collective Bargaining in the Public Sector
Public Finance and Budgeting
Political Economy Organization & Management
Public Fire Protection
Strategic Planning for the Fire Service
Fiscal Management for Local Government
Problems of Metropolitan Areas
Local Government Configurations and Operations
Communications and Public Relations for Public and Nonprofit Organizations
Strategic Planning for Public and Nonprofit Organizations
Fund Development for Nonprofit Organizations
Nationally Recognized Excellence